Over the past 25-30 years, we have seen the rise of regional manufacturers who can replicate certain manufacturing processes and products from Japan at a cheaper cost, pushing Japan out of mass industrial markets. However, we still see that many Japanese firms are leaders when it comes to niche B2B fields. How have Japanese firms been able to maintain their leadership despite the stiff price competition?
I believe that Japanese companies have a competitive advantage over other manufacturers in the world. This is because we are pursuing quality for the customers, even though other manufacturers strive to improve quality for the sake and sustainability of themselves.
The mindset toward production is also different that we commence to assess potential risks and prevent unexpected accidents from the perspective of quality and production. We want to set everything in place before production, whereas manufacturers in emerging countries tend to investigate risks and improve quality while starting production.
I believe that Japanese companies are still competitive since everything is verified and provided before start of the production, including quality assurance, facilities and procedures.
This is why high-quality products are manufactured.
---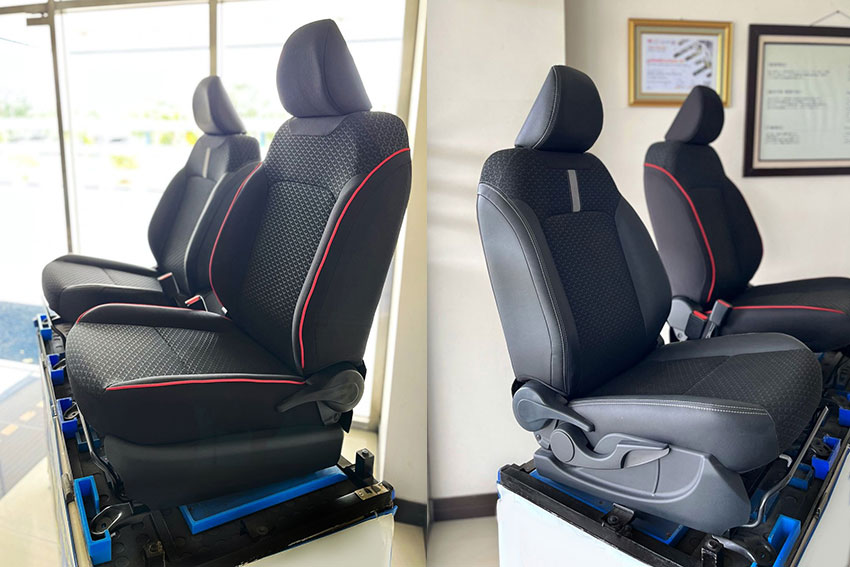 Front Seat
---
Japan has the world's oldest society and has a rapidly shrinking population, which presents two major challenges for Japanese firms. The first is a labor crisis and the second is a shrinking domestic market. What are some of the challenges and opportunities this demographic shift is presenting to your company?
With regard to demographics and a shortage of skilled workers, Fuji Seat is actively recruiting foreign employees through a dispatch company and the Technical Intern Trainees program that the government provide. We have enough work force to engage in operations appropriately. At the same time, we introduce automated equipment to save workers in our sites.
The shrinking of the market is inevitable. We have to pursue quality and products that are highly evaluated by our customers so that we can remain in the market.
Our current share ratio in small cars market in Japan, it amounts to 30% to 40%, so we still have room to expand.
Can you share with us some of your competitive advantages that allow you to obtain such a large market share domestically?
I think that the reason is the cost, quality and service parts that we provide. In addition, 80% of Japanese roads are mostly two lanes and narrow. The top sales vehicles are dominated by small cars. Fuji Seat specializes in the field of small sized vehicles. As a result of this, we can maintain a large market share.
We know Japan is a leader in process automation, but when it comes to the adoption of digital tools it lags behind. To reverse this trend, the Japanese government created a digital agency, which is providing incentives to the private industry to increase the adoption of IoT as well as cloud-based solutions. How do such digital tools benefit your business operations, and what new digital technologies are you looking to implement here at Fuji Seat?
DX is a current concept which became popular within two or three years, but we have been taking active steps to automate our facilities since 1998. We have not only been adopting automation, but also transforming into digitalization. However, if you pursue automated lines, the machinery becomes bigger and inflexible, so we have developed own machinery and demolished them many times.
The mainstream of automated production lines in the automotive industry is to integrate and optimize small sized machinery.
I feel that with the advanced technology, the automation will make us streamline and make up for a lack of workers. When we installed robots in the past, we had to equip cages to prevent an accident. Thanks to an evolving technology, the machinery got smaller and it became more versatile, so it readily became more applicable and accessible for a manufacturer like us. Fuji Seat has several group companies and selected experts in order to establish a new engineering company.
You are part of the Daihatsu Group, which is a well-known ecosystem in Japan. What are some of the synergies that being part of the Daihatsu Group provides for your company?
The Daihatsu group is unique in that generally automotive manufacturers have at least two suppliers that they outsource the seats, but Daihatsu group only has one, which is Fuji Seat. On the basis of a comprehensive relationship with Daihatsu group, we can foresee exact demand and trends, work together to develop seats of high quality and low cost.
This ensures a certain number of orders and allows us to implement a scheduled investment to meet their requirements.
What are you doing to balance this, in case that the 100% of orders drops to 80% or 70%?
We design and develop products in accordance with the specifications of Daihatsu at this moment, but we hope to manufacture original products with our own brand.
Your product lines can be divided into four main segments: the front seat, rear seats, door trims and roof headliners. Can you tell us which one of these is your main focus and which do you believe has the most potential for growth in the future?
Fuji Seat was established as a seat manufacture in 1935. Our main components are seats, but we are aiming at being a comprehensive solution provider for automotive interiors. Because seats, door trims, and headliners we produce make up the majority of interior parts for passenger cars.
People don't buy ceilings and floor carpet separately when they buy a house. In that sense, we would like to supply entire interior components as a one-stop solution provider.
The automotive sector is undergoing a great time of change during the switch from gasoline vehicles to EVs. As a result of this, many vehicles require new specifications, such as needing to be lighter in order to offset the weight of the lithium-ion battery. As this switch to EVs continues to take place, what opportunities do you see for Fuji Seat, and how do you plan on taking advantage of them?
We have been developing our products for small cars in Japan. At the same time, we have been pursuing consistently to seek lighter, thinner, smaller and more comfortable seats.
In fact, Fuji Seat, the only company which specializes in small cars, and we have been striving to optimize seats since its establishment.
In terms of EVs, vehicles assemble batteries under the floor. As a result, we are challenging to meet the optimization to create enough space for batteries and passengers while transforming into EVs.
Driving in comfort is a paramount consideration for both car makers and drivers. You mentioned that you are trying to make seats smaller. How do you make your seats comfortable given that they are becoming smaller?
It would be the material that would be adding comfort. Working together with material manufacturers, we need to accelerate the development of materials that provide thinness and cushioning property compatibly. Under this condition, our research and development department have to address how to create comfortable space in small cars.
Ever since the Japanese government announced that the country must be carbon neutral by the year 2050, Japanese industry has been outspokenly ambitious when it comes to the setting and attaining of carbon neutral targets. What are some of the efforts that you are taking in order to contribute to a more sustainable society?
We have two approaches. One is to make the product itself environmentally friendly, and the other is to reorganize an environmentally sound production line. We are now switching some materials to renewable and recyclable ones for the product. Additionally, we are recycling the used urethane material and chopping it into small pieces for reuse.
With regard to transforming production lines into environmentally friendly, our products for small cars consume less electricity and less gas when they are manufactured. However, we are working on more efficient production process like new welding equipment and resin molding to eliminate operating time. We have a carbon neutrality program that entire Toyota group is working together in accordance with the guidelines.
Tragically, 1.3 million people are killed on roadways every year around the world. We know that the design of seats can affect the impact of the collision and how it is absorbed, which can potentially save lives. What steps do you take in your manufacturing process in order to ensure the safety of the driver?
In terms of safety, we completely comply with safety standard for automobiles as one of suppliers.
Our products should be compliant with safety assessments as long as we continue to carefully fulfill each procedure of manufacturing process in order to supply reliable products. As a seat manufacturer, we have a crash simulation test that can reproduce a crash and conduct both analysis with the actual seats and analysis with CAE to see what would happen if an accident occurred.
Are there any products or technologies that you are currently working on in your R&D department that you would like to showcase to our readers?
Firstly, we are exploring the possibilities in small cars. We need to ensure seat comfort while making the seat safer and lighter simultaneously.
Secondly, we are now trying to introduce an automated production line nobody has never done before.
Can you elaborate more on the role that collaboration plays in your business model, and are you currently looking for any partners in overseas markets?
For our overseas business, I would like to work with a variety of companies. Fuji Seat established a company in Indonesia as majority of shareholders.
On the other hand, we have several joint venture agreements with local partners in Malaysia and China.
---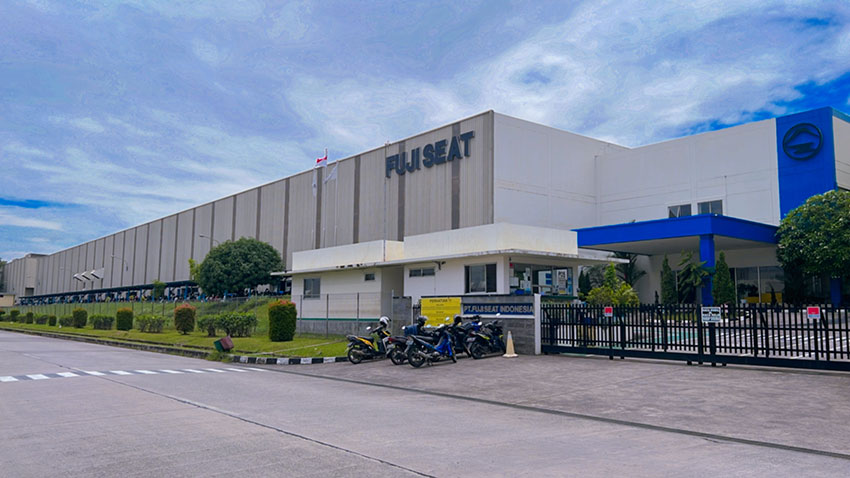 PT. FUJISEAT INDONESIA
---
There have been many advancements in the automotive industry as a result of globalization, which have encouraged some companies to diversify their customer portfolios to include overseas customers. Are you looking to adopt the same strategy in your overseas expansion plans?
If there is a business opportunity, we would like to do business with overseas customers and partners.
Our main customer is Daihatsu, and we are a member of Daihatsu group, so while supporting Daihatsu firmly. I believe that our overseas business makes us strengthen competitiveness and contribute to Daihatsu.
Are there any countries or regions that you have targeted for further expansion, and what strategies will you employ to in order to achieve that?
We are willing to go anywhere if there is demand for small cars and currently focusing on Southeast Asian countries like Vietnam, Laos, Cambodia and Myanmar. Because I think small car market seems to be insufficient in these regions.
If there are any automotive manufacturers that plan to assemble small cars in these countries, we would like to expand our business field together.
It will be your 90th anniversary in 2025. What would you like to have achieved by then?
Our 90th anniversary is not anything special for me. I think every day and every time is a challenge.
My wish is always to make customers, suppliers, community and our employees happier so that we can evolve together.
I want to hear everybody says "We are happy to choose Fuji Seat."