In the last 25 to 30 years, Japan has seen the rise of regional manufacturing competitors who have replicated Japanese monozukuri processes but at cheaper labor costs, pushing Japan out of mass industrial markets. However, we still see many Japanese firms maintain leadership in niche B2B fields. How have Japanese firms been able to maintain this leadership despite the stiff price competition?
Korea, China and Taiwan have grown rapidly through the mass production of replicated Japanese products, but those products lack quality and functionality. Recently, however, these countries are actively hiring Japanese engineers to uplift their product quality and functionality. Hence, their level is quite high now. However, there is a big difference between mass production and low-volume, high-mix production.
Mass production only requires a few engineers and factory workers only do simple work, such as assembling manufacturing. On the other hand, Japan remains strong in niche B2B fields, high-mix-low-volume production, because the workers on site, not only the engineers, have a certain way of thinking regarding manufacturing, as well as a high level of engineering skills, I believe.
Japan is the oldest society in the world and has a rapidly shrinking population. In the next 15 years, 1 in 3 people will be over the age of 65, presenting two major challenges for Japanese firms. The first is a labor crisis and the second is a shrinking domestic market. What are some of the challenges and opportunities this demographic shift is presenting Punch Industry?
Domestic Japanese sales account for about 40% of our group's total sales. It is inevitable for Japan to experience a diminishing population, so we foresee that the domestic market for us will shrink along with that. However, we actually see an opportunity with the depreciation of the Japanese yen because we may be able to export more products. Currently, for our business based in Japan, only 5% of sales comes from overseas, and we see this as an opportunity for growth. Also, automation is required not only in our factory, but also in other Japanese factories due to the shortage of manpower. Therefore, we want to utilize our accumulated experience in mold and die component manufacturing and apply that to new industries and markets, such as factory automation.
Over the past two years, the COVID pandemic has created major logistics and supply chain disruptions across the world, causing shipping problems. In addition to China's zero-COVID policy & the lockdown in Shanghai, there have been chip shortages impacting the automotive industry. In such a disrupted supply chain, how are you able to maintain these advantages of proximity and short lead time?
We did not experience much damage from these logistics disruptions because we mainly utilise air freight as our products are quite small and can be hand-carried. Therefore, thankfully, we did not have much impact in terms of importing or exporting our products. Regarding the political impact, such as the Shanghai lockdown, we have six production factories in China with the idea of staying close to our customers. In case of a lockdown, like the one happening in Dalian now, we can have a flexible production scheme from which we can shift our production to other factories. We may be delayed by several days, but we can still deliver the products despite this disruption.
Punch Industry has supplied its F-Coating for high-tensile steel punches, but in recent years, harder and thicker materials are being used in punches, such as ultra-high-tensile strength steel. To meet this demand, you have developed the NF coating punches. How did you improve the NF coating punches upon its predecessor, and what makes it superior to other coating materials?
We have about 6,000 clients in Japan and 8,000 in China. Based on the information we have collected, we found out that there was a demand for such coating. In the past, we had been collaborating with our partnering factories and companies and delegated coating to them. Later, however, we started to develop our in-house coating methods. Our strength is being able to provide our in-house coating as well as our partner coatings. Our customers can try a variety of products we have in our portfolio.
We first started by developing TiN and TiCN, the simple types of coating. The purpose of developing coating is to increase the durability of less expensive materials. However, the simple types of coatings were not fully applicable to high-tensile materials. To increase the durability, we polished the surface of the material before applying the coating. We also applied trial-and-error on other methods to increase the hardness and durability of the materials, leading us to our F coating and NF coating.
---
F and NF coating
---
Your P-Bas (Punch Bonding and sintering) technology is part of your efforts to develop new bonding techniques and sintering metal materials. How do you believe your P-Bas technology will change the mold and die components industry?
P-Bas is divided into two technologies. One is bonding and the other is sintering. Bonding is intended to replace the use of 3D printers to produce mold and die components. In recent years, manufacturing using 3D printers has been booming, and many of our customers are trying to create mold and die parts using 3D printers. However, using a printer has some problems, such as the rust in cooling circuit, limited materials that can be used and the high cost.
P-Bas's bonding technology allows us to apply a rust-preventive surface treatment to the cooling circuit to make it smooth before bonding it to the final product, which not only reduces costs, but also prevents rust and maintains production efficiency and extending the life of the components.
---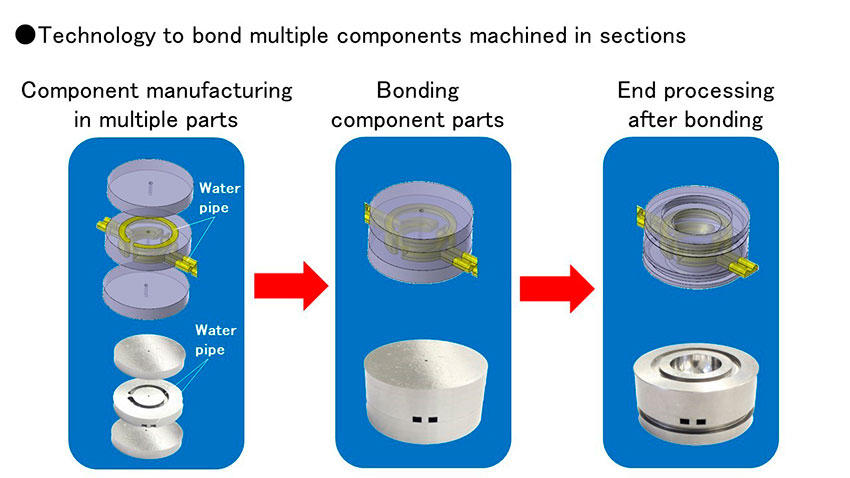 Bonding technology of P-Bas
---
Sintering's technology aims to develop new materials for use in mold components mainly. Materials frequently used in mold parts are mainly produced by specialty steel manufacturers. These specialty steel manufacturers produce large quantities in furnaces and design alloys with mass production in mind, so they do not always have the best lineup of materials for customer applications, which is a challenge. In particular, materials used for plastic molds, compared to press dies, are required to have various combined performances depending on the product to be molded, such as wear resistance, high thermal conductivity, non-magnetic properties, anti-rust properties, and compatibility with surface treatment. We believe that there are many areas that are not covered by existing materials, so we decided to start by developing materials for plastic molds components through joint research with Hokkaido Industrial Technology Center. By providing new materials to customers who are experiencing problems with current materials, we aim to become the first choice of our customers. The new material developed will be used as a material for our mold parts and will be sold to our customers upon request.
Regarding the sintering technology of P-Bas, in June 2022, you had a joint research agreement with Hokkaido Industrial Technology Center in conducting research and development for high-strength, high-performance powder alloy for plastic molds. What are your expectations for this research agreement? Are you looking for similar collaborative efforts in overseas markets?
Our joint research with Hokkaido Industrial Technology Center focuses on developing a new functional material - a powder alloy that can replace or serve as an alternative for steel. We do not have much knowledge of this material development, so we have been collaborating with this research institute. The purpose of such an endeavor is to differentiate ourselves from other companies by developing new types of materials that can potentially create new types of steel, such as steel with pores to allow gas to penetrate or filter through. Since our overseas collaboration is more on the sales side, we want to find new agents to expand our market sales capability globally.
The biggest part of your revenue, historically, has come from the automotive industry and electronic component & semiconductor equipment makers in Japan. With all these innovations, what do you think will be the next industries of growth for Punch in the future?
We have been looking at the medical and food industries as the next potential areas for the past seven or eight years. PET bottles use molds and they are mass produced. Since mass production in PET bottle and medical-related industries require high quality and stability, our sales for those market is gradually increasing. Particularly during COVID-19, we have received a lot of inquiries and requests, some from China, for components of dies that make masks, including PCR-testing cube manufacturing and syringe molds. Sales have remained steady as inquiries from medical-related companies have increased.
Punch Industry provides high-quality molds and die components with four production bases in Japan and eight overseas - China, Malaysia, and Vietnam - all of which have varying degrees of engineering skills and equipment quality that can affect the final outcome of the product. How are you able to ensure product quality in your overseas operations?
Maintaining and elevating the quality, especially in factories in developing nations, takes time. We have been dispatching our Japanese engineers very frequently to do the training and provide education on the sites. Furthermore, for over 20 years, we have been welcoming Chinese workers to come to Japan for a year to learn about Japanese monozukuri and take back that training to the Chinese factories.
Moving forward, are there any countries or regions you have identified for further expansion into, and what strategies will you employ?
For the production site, it took over 10 years to instill Japanese monozukuri and uplift the quality in our Chinese factory. It really takes time. We want to concentrate on our existing factories, like those in Malaysia and Vietnam, and take the time to help them reach a high-quality level. It is not a one-off thing. It is not as simple as building a factory, introducing high-end machinery and hiring people. The building of human capacity is what is important in our factory. Considerable time is needed to conduct training and accumulate experience.
As for our sales strategy, we are focusing on Europe and the US, where there are many die and mold manufacturers. In China and Japan, the sales strategy is having many salespeople who thoroughly communicate to drive the business forward efficiently. The business style is a bit different in Europe and the US. Now, we have a direct sales office in the US, so we want to fully utilize that base to cover the whole North American market. We are still discussing a new type of strategy that we should employ for sales. We feel that the hurdles are more difficult to overcome in establishing a production site in the US and Europe due to the different standards. In Germany, it is DIN, but in the US, it is the inch. Therefore, we start by producing global standard products before moving on to customized ones. The difference in the standards makes it difficult.
How did you decide on the name of this company? What is the meaning behind the name Punch Industry?
As far as I know, the name stemmed from the fact that this company was founded by manufacturing punches. Also, the founder was a karate practitioner and liked the punch style.
Imagine we come back to interview you again on the very last day of your presidency. What ambitions or objectives would you like to have achieved during your time as president that you would like to tell us then?
I am not sure how many years that would be. The founder has his own ideas and mission. Succeeding our founder's mission, my mission is to sustain and continuously grow our company in a globalized world. Given Japan's diminishing market, it is vital to shift more of our business overseas and put more of our eggs in new baskets or new businesses.