The Japanese chemical industry has suffered when it comes to the production of base chemicals, and this is due to regional competitors being able to lower their costs. However, Japanese chemical manufacturers remain leaders when it comes to highly functional and specialized chemicals. Furthermore, Japan can count on engineering plastics companies who are able to develop niche chemical and material technologies. What are the strengths and weaknesses of the Japanese chemical industry?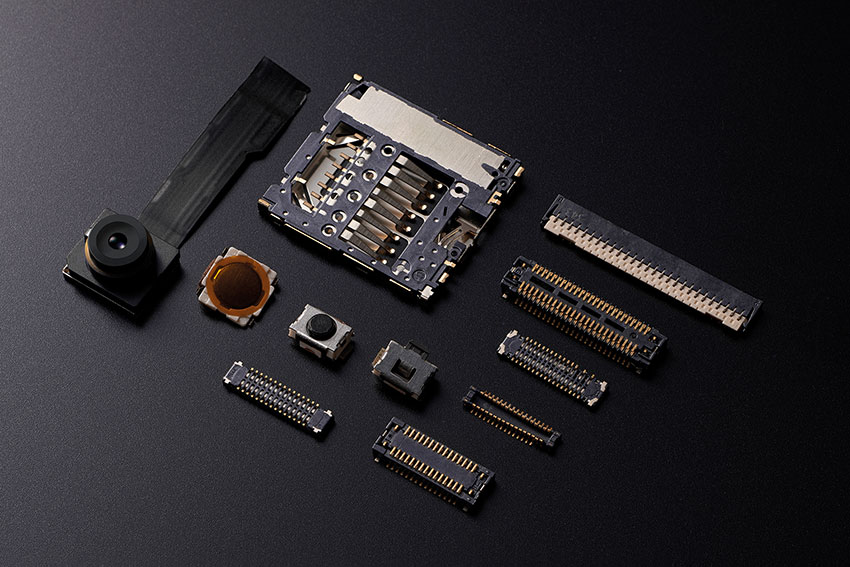 Narrow pitch connector
I would like to take the example of iPhones because a lot of the engineering plastics produced by Polyplastics are being used as part of it. Of course, we are just manufacturing the material itself, not the electronic components inside the phone. The PCB connectors, as well as the camera modules with CMOS sensors, all use our LCP (liquid crystal polymer), of which we are the world's number one in the industry, so it is important to our customers. EMS providers, who actually manufacture iPhones, are important customers to us in this sense. We are probably supplying within the range of 60 to 80% of all the LCP that are being used within the phones.
For example, those CMOS sensors you can find within an iPhone are not on their own, but actually they are part of the camera module, so it comes together with the lens and the other parts required for the camera. Actually, the frame which makes up the skeleton of the module is made using LCP supplied by Polyplastics.
We are supplying the materials that form the frames and skeletons of electronic components in the upcoming iPhone 13 and 14. As you know, these phones are starting to support 5G networks, and they will be using the 26 or 28 GHz networks, about these frequencies that we are going to use in Japan. Currently it is just for the iPhones sold in the US, though we have started to use the waves as well, which is the next generation that will support 5G connectivity. They use LCP to build the flexible circuit for 5G, and the LCP is almost 100% supplied by Polyplastics.
It was true that Japan's consumer electronics, those appliances, were ruling the world back in the 1970s or 80s. I joined this company, Polyplastics, in 1987. We were still using videotapes and Walkman back then. Those were the number one applications, and now you can see they all rapidly dropped away. Nobody is using videotapes any longer, but for Polyplastics, because we are supplying just the material itself, we did not decline together with the Japanese economy during the last two decades. We continued growing throughout the years because we were supplying materials. The point is the applications are all going to change with the evolution of the prevailing business environment. We match what we are supplying according to the applications needed by societies at different times. That is why we are surviving.
Back to your question about the Japanese market, I would say that the market size globally for the resins that we sell is worth 100 billion to maybe 200 billion yen. That is what we are talking about, and I was just bringing up LCP, one of our star products, that is also worth maybe a few dozens of billions, not too much more. It is important that Japanese companies are focusing on this kind of market, because for example, we are only talking about resins, but if we just talk about the whole industry, there are much bigger players who sell a few trillion yen or even more than that. They have economies of scale to reduce the raw material price because they are manufacturing massive amounts and they have that bargaining power.
Japan is not going to win in that kind of battle. Winners will be in China or in other emerging countries that can do it at a low cost. Japan would not win in that kind of competition because we are not trying to win using manufacturing of scale, but instead we are trying to be winners in dealing with this kind of special or highly functional material used in innovative products.
Japan is the oldest society in the world and has a rapidly shrinking population, which presents two major challenges for Japanese firms. The first is a labor crisis and the second is a shrinking domestic market. What are some of the challenges and opportunities that this demographic shift is presenting to Polyplastics?
The demographic changes did not just start today. We have been facing them over the past 20 years or so. We are seeing a shrinking population with a smaller younger generation, but still, over the past 20 years, we have been able to make growth for Polyplastics, and we do not foresee that this change in Japanese demographics will contribute to a decline in our business. We can still find chances to continue growing our business.
Back in the 1970s and 1980s, our biggest application was gears in video recorders, reels for taping, and now it is for the automotives industry, so in the future, it will depend on society's needs. For example, we will still need it for automobiles, and we may even need it for, for example, caregiving robots. You can imagine how society's needs will develop because we are all talking about mobility. It is important to make the body of a car as light as possible, and there is no other choice than using engineering plastics. We try to make car bodies and parts with that, so that is one need, and the other need would be for robots as caregivers in the home. For example, if you want to use it in a household, you obviously cannot make it one or two tons in weight. It would be too heavy and probably break your house, and there would be a risk of danger if it would be too powerful and maybe hit people in the household, so it is important to use engineering plastics in those things.
To cater to those future needs, including the infrastructure of society, we will be able to play a part with some of our products. To continue to understand customers' needs is crucial as well, so that we can find new applications and markets for our engineering plastics. Our potential customers could be anywhere, it would not be limited to Japan. It could be in China, the US or anywhere else, but if we can find society's needs, we could continue to respond to them with our products. It is important to be the top solution provider. We are to provide the infrastructure of engineering plastics that we are supplying to the customers, because in many cases our customers would not have that level of expertise.
For example, we are supplying automobile companies and smartphone companies. Of course, they have experts inside their companies, too. They could have an expert in an automobile company, but there will seldom be any experts in LCP, or POM – these engineering plastics – because we are at a professional level, so it is hard for the customer to achieve that just with their own people. That is where we would come in, because we are able to bring it up to that level and we can advise the customer exactly how they can use our engineering plastics, and also prove how we can provide specific specifications like durability.
In the case of POM, it is being used for a fuel sender module in automobiles, but you have to prove it before the customer would ever decide to use it. You need to show that even after the car, for example, runs for 200,000 kilometers, this is still going to work and function properly using these engineering plastics, so you need to do a proof of concept, or provide some evidence before you can actually sell it to customers. Under extreme conditions also, when the car is running in a hot desert or other extreme conditions, as well as with the newer type of fuels, like biofuels, which are going to contain a lot of contaminants including acetic or alcoholic ones, we need to prove that it will still work and withstand those kind of contaminants in all those extreme conditions, so we need to be really professional with the know-how on engineering plastics to be able to tell our customers which system and even testing methods will be appropriate for evaluating the engineering plastics in advance, before they can even choose to build it into the product. That is why we are calling them the so-called solution provider in the side, because it is not just about building massive plants or manufacturing sites, but with this level of knowledge, you need to actually show it to your customers.
It is essential therefore, for Polyplastics to gain this knowledge and pass it on in order to provide total solutions to our customers in that sense. When the customers give us topics for us to study or to think of at a rough and high level, for example, they could just say, "We want to change this particular sensor that tells you the level of the remaining fuel in the gasoline tank. Can you do it with engineering plastics?" This would become a ticket fired off in the market by our salespeople, and it would come into the R&D and manufacturing – everyone in the team across all the functions in our company would have to cooperate to bring about the effort to create a solution and take it back to our customer. This is the strength of Japanese companies. As we just mentioned with the LCP and POM we are supplying, the same also applies for fine ceramics and also special kinds of metals etc., because suppliers need to have that unique level of knowledge and be able to provide total solutions to the customers.
With the switch to EVs, many traditional components such as internal combustion engines are no longer needed and with electrification and CASE, there will be more emphasis on car electronics. What opportunities does the switch to EVs present for your firm, and how do you plan on taking advantage of them?
Basically, we are going to turn the automobiles into CASE including EVs, and they will be built up of many different modules, for example to supply the power from electricity, and then we have the DC-DC inverters, the activators and motors as well, so we also need connectivity across these modules. You can imagine, it could be wire harnesses or connectors, and it is possible that those could be made of engineering plastics as we already addressed earlier, and also activators could be engineering plastics because in conventional type vehicles, combustion engines would go up to a few 100 degrees Celsius, but in an EV, that is no longer the case, so you do not really need to withstand those harsh conditions.
Next, we need to further improve internal connectivity. Also, talking about connected cars, it is just like a conglomerate of many smartphones. When 5G network connectivity plays a part, we will use millimeter waves as well and there will be a massive need for engineering plastics like LCP. We can have more applications for reengineering plastics without the combustion engine, as there is a lower temperature range requirement. We need electronic pumps to pump cooling water all around the vehicle itself, so the pump itself could also be made with more engineering plastics. As you were taking the other companies' products as examples, like Kureha Corporation, they make PPS polymer that we compound and sell as PPS resin, but yes, I would say we can have increased applications of engineering plastics and all those electronic components. Conventional parts for traditional engines are eventually going to go the way of videotapes in the old days. On the whole, we are actually going to see an increase in the need for engineering plastics products such as those we are supplying.
DURACON®POM is a form of polyoxymethylene that is utilized in mechanical components such as gears and bearings as well as reliable parts that require chemical and fuel resistance. Furthermore, it has well-balanced mechanical and self-lubricating properties in addition to oil resistance. How were you able to achieve these unique properties when developing DURACON?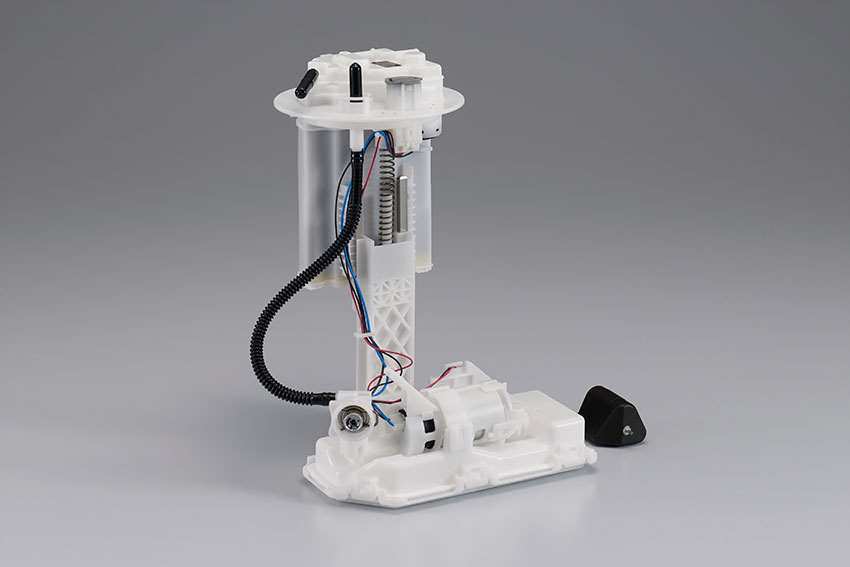 Fuel pump
It is not just by our own effort, that we developed this product, DURACON®POM together with our customers. Actually, we have the Technical Solutions Center that we established back in 1971. It is like a research center, but it is an open laboratory, so we invite our customers to come over and join hands with us to do their research and development. For example, if our customers wanted to develop a gear for VTR purposes with certain qualities such as sliding properties or resistance properties to friction, it would be hard to simulate just using automatic analysis or simulations. The only way is to do experiments under different conditions. You cannot wait for the entire product life cycle, obviously, so it needs to be accelerated testing.
We actually work with our customers to design those accelerated programs as well. For example, as I mentioned about the gear, how do we make sure the sliding properties are delivered according to their needs? There is no way we can check until we actually experiment with it, so we reproduce the environment that our customers are going to produce their products in, and we check the results together with them, and then we make improvements if they are needed. Another example is that, if our customers are having problems forming a particular mold for a particular product, they can actually bring the mold in and we can try to investigate the problem again to see what exactly went wrong and resolve it together with our customer, so it is always done hand in hand with our customer.
We would not have been able to develop this DURACON without our customers' joint effort, and that is a characteristic in our field because we are developing plastics for electronic products, and we need to join hands with customers in terms of how to develop new technology or new products. If it is just plastics that you need to provide a couple of times and just apply it as raw material, that could be it, but at our center we have it, back in 1971, starting in Japan and after that we expanded it to other countries and/or regions like Taiwan, China and South Asian countries. Even now, we have a plan to expand in Europe and North America as well. We are eager to do this all over the globe and join with our customers to find new applications and new ways to use the materials that we are supplying, and new ways for molding the product.
Let me just add one more point regarding DURACON, because the main raw material is methanol, which is easily derived from biological methods, so if we wanted to turn it 100% bio, we could easily do so in the future. Of course, at this point in time, let's just say that a small percentage of our products are manufactured in a biologically degradable way, also due to requests from our customers, but in the future, if we see more common use of bio methanol or e-methanol, then we can switch it over to cater to environmental measures.
Your products are used in a variety of applications including electronics, automotives and other applications, including makeup brushes. Are there any new applications that you are looking to utilize your products for?
We position our company as offering a broader variety of solutions, and it is important for us because we provide our material to support different applications for our customers. One thing is to push the standard boundary of what is thought of as our conventional scope. That would be the plastic parts manufactured for electronics. We are to provide something that is of super high functionality that would exceed the existing professional scope, and the other thing is what we call additive manufacturing, through 3D printing. We are attempting to see if we can manufacture POM with this 3D printing technology, and we are trying to do it alongside our customers as well. We try to do just a small quantity, but a good variety of all sorts of different kinds and have a wide coverage. We are focusing on things that are niche, that are complicated, and taking care of that for our customers.
Let me tell you – we technically succeeded in 3D printing with POM. This would provide a good solution for making plot models directly by using POM. In molding, it would be a hassle for our customers because they need to keep all of the molds even if they are not producing a lot, but they can keep many different designs and whatever quantity they need. So, molds would no longer be necessary, when customers can create a product with 3D printing by using POM. We have already seen the powder form, and also with the monofilament, so we are to see how we can put it into practice in reality. In any case, we are not trying to expand the quantities, but rather we are really trying to give a better coverage of all kinds of solutions in order to cater to all the different kinds of needs of society.
What role does collaboration play in your business model and are you currently looking for any partnerships in overseas markets?
Thinking back over the history of Polyplastics, and how we became a company and arrived at where we are, we have always walked along the journey with our different partners. When you mentioned Kureha, we actually have a so-called virtual joint venture with them in the PPS business, so they are producing the resin itself and we are converting it into different compounds to supply the market. We had similar kinds of, but real, joint ventures with the PBT materials for Teijin Limited as well, so we have built joint ventures – virtual ones with other companies – and we have been very active in these kinds of collaborative efforts.
How we actually do it is we are always expanding the coverage of our business with the solutions we provide to customers who provide different kinds of products from our materials, and also having them use it in different applications. For example, we are running new developments, like highly functional new engineering plastics with additive manufacturing and 3D printing. All these are the initiatives we are leading together with our partners too, so they got involved with the collaboration. We are expanding our footprint and making our presence stronger in the US and Europe as well, because currently Asia is taking up about 80% of our business. Obviously, there is still room, and that is why we are looking for partners in the US and EU, to help us expand through everything from product development and molding to geographical expansion. Partnerships have always played an important part and will continue to.
You have alluded to the goal of expanding further into Europe and the United States. Can you elaborate more on what initiatives you're undertaking in order to achieve that goal?
It is about how we can expand our market shares in Europe and the US. Speaking of the main countries we are investing in currently, one would be Germany. We are particularly interested in COC, and it is also supporting the initiatives of European countries for a circular economy because we will drive towards a mono materialization, but when you are trying to combine different kinds of materials, it is difficult to achieve that just by using polyolefin, so we will do it with COC. We are actually in the process of building a big second plant in Germany as well, and that is to reach the 2025 EU Directive for including satellite communities so that their residents can achieve the goals for a circular economy in terms of plastics.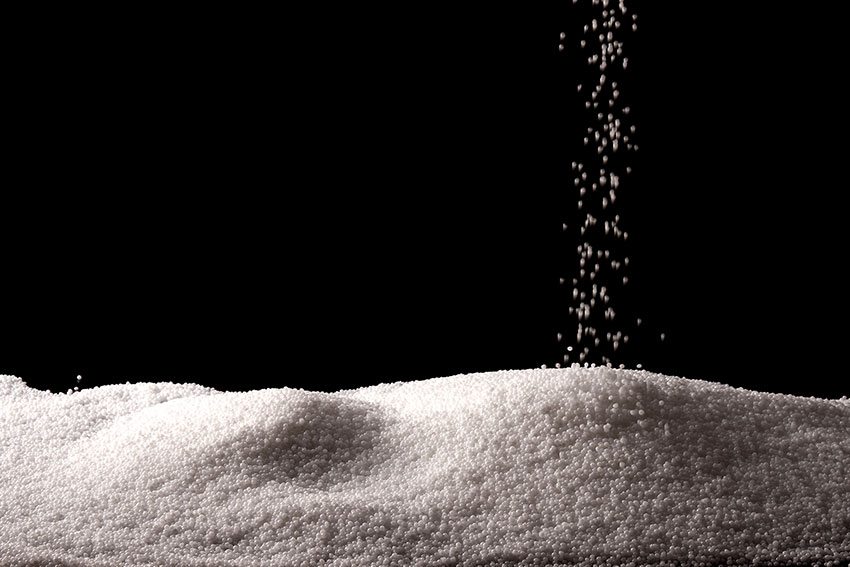 Engineering plastics (POM pellet)
Our other main investments are focused on Asia. For China, we are balancing our domestic suppliability with the demands that we can see within China. We are also investing in Taiwan because there are electronic components companies that supply products that use LCP, as well as semiconductors and smartphones. To achieve that kind of organic growth, we can do much of it by ourselves on our own, but it is crucial to have partners, because for example, there could be a local company in Europe that really understands how the European market is and how they do business. We really need that kind of partner, that really has access to the local market and the core mentality of the customers there. Likewise for India.
We want to find a company that has a certain degree of influence in the European market, and instead of just acquiring the entire company and doing it our way, it will be better to just put things very much in the local company's hands, for example, in Europe. Likewise, we could help them the other way around, like for example we have difficult entrance requirements into the Japanese market for European suppliers, so instead of making acquisitions and turning it into a part of our group, it is better to do it that way.
In our industry it is always with a joint effort with customers that we develop processes together, and with the business, we need to have deep understanding on how things are working on their end. Globally, we are looking into supporting initiatives about the correct ways of using plastics. To use them during their entire lifetime, as they could be used for a long time, and to support the circular economy, as I mentioned. In that sense, we are always looking for good partnerships to be active in this arena.
Imagine we come back to interview you again in five years' time. What would you like to have achieved by then?
That is a difficult question indeed, but for me, one of my aspirations is that we have the potential as Polyplastics to become a global number one supplier, with the engineering plastics that we are producing. The important aspect to winning this battle is not about the quantity you are selling; it is more about the scope of the solutions that you can provide and cover. In order to do this, I believe that we have all the knowledge required to build the solutions that our customers would need, and we are able to really understand what their needs are and put together proposals.
We want to be the first name in the industry when a customer would think who can do those kinds of plastics, and it will be Polyplastics. That would mean that we are number one. It is not about numbers, not about revenue size. It is about the ability to deliver solutions. This is where I want the company to be, and we are in a pretty good situation.
With the way things are changing around the world – because we are now moving away from massively producing a lot of plastic and to be as cheap as possible, and throwing it away after using it – we are telling people how to correctly use plastics. To use it for as long as they can, and also to think of it as more of a scarce material. They should be able to recycle and use it again whenever possible.
Now we are going to a good position, and also an important position that our company can take up, so I hope that when you come back again, say in five years, to interview me, I can probably tell you that the Polyplastics business has been doing as I want and we are able to say we can contribute to the future and how human beings could use plastics properly in this industry.
Before I came to the office, I went to a temple and I was doing practice for two hours. There was one phrase that I could take from the themes I was reading, and it is close to what Steve Jobs was saying about it being a good idea to stay hungry and stay foolish., We take that as the "Polyplastics way and family." We call ourselves a family. We trust our way in our beliefs, and we perhaps stay foolish, but we try to walk all the way towards our goal without changing our beliefs. We can eventually see a light along the way to becoming the global number one eventually.
That is the only way to go, because we are very much focusing on engineering plastics but it is a limited scope and we would not say we are so wise or multifunctional – what we can do is limited – but we focus on it and we put our full effort into it.
Many people are saying that plastic use is bringing about issues and problems, so alongside solving those problems, I would like to raise awareness of this as a company and also to bring about what we can provide to society.