Over the past decades we have seen regional manufacturers competing against Japan based on economies of scale and cost competitiveness. Nevertheless, when it comes to certain niche B2B segments, we see that Japanese corporations both large and SMEs have managed to maintain either a large market share or a high technological edge. How do you explain that despite this price competition, companies like yours are able to remain competitive?
Japanese companies are often considered number one in terms of production as well as providing services, as we ensure that our production and services are of the highest quality. I believe that this is possible due to the Japanese characteristic of being proud of what you have done. It is a prevalent part of our culture. People are very conscious about what other people think about them, and in order to not be looked down upon by others, Japanese people try to do their best and excel at what they are doing. This leads to trust and reliance from the customers.
Our high quality and diligence are reflected in our products. This is not only the case when it comes to industrial and machine tools. It also relates to farming and other fields. Japanese people do their best to avoid being ashamed of what they have done. This has increased our international competitiveness, and has led to us being highly valued in the global sphere. This concept has contributed to the well-being of the customers as well as the employees that work for the companies.
Another characteristic of the Japanese industry is its industrial structure. Japan is famous for its very big conglomerates such as Sony and Toshiba, as well as its Tier 1 suppliers such as Aisin Seiki or Denso, for example. Often what people ignore is that 95% of employment and around 50% of added value manufacturing output comes from SMEs. Could you explain to us how your company, as an example of one of the strong chusho kigyo from Japan, supports these Tier 1 makers and these big brands in the national supply chain?
The strength of Japanese SMEs is that their mindset is to be number one. That does not necessarily mean having the number one share. Rather it means having the best and most unique technology that is acknowledged in the industry. For example, Soichiro Honda who established Honda, was a pioneer in opening up various new fields. He took up many challenges such as entering Isle of Man TT and F1 field, for example. He also invented many new products. Japanese people have an innovative spirit that leads to them being pioneers in new fields. Copying the work of someone else is something to be ashamed of. You cannot be number one in a field if you just copy somebody else. You must be innovative in your own ideas and spirit.
Japanese companies, especially SMEs, struggled when the bubble burst. It was a very tough period. Many companies including ours, went through hard times. We tried to find new ways to create and accumulate technology. The SMEs that survived that period, now have high levels of technology which allows them to compete in the global market.
Today, Japanese SMEs are also facing certain challenges due to Japan's unique demographic situation. Japan is the oldest country in the world, but it also has a negative demographic line when it comes to losing people, with nearly 1 million people lost over the last five years. This demographic decline is creating two very big challenges. The first is the shrinking of the domestic market, the second challenge is related to labour. This is particularly affecting SMEs in regional areas. How is your company Oriental Engineering facing these disruptions? What are some of the steps that you have put forward to solve these issues?
The declining population is actually one of the gravest concerns that we have. In fact, just last week, we had an association of heat treatment meeting with the CEOs. The common theme was how to secure human resources for business continuity. Acquiring new human resources as well as maintaining our current human resources is crucial. As a trend, the younger generation often tends to choose the IT or automotive areas rather than entering into the manufacturing field like our company. In order for us to increase our hiring, we have been taking several approaches recently. Up until a few years ago, we did not have any issues. In the past, our company had between 160 and 170 employees, with more than ten people joining our company as new graduates each year. However, recently we have been only able to acquire one or two new graduates each year.
We are now not only focusing on new graduates, but also on mid-career employees, as well as those who first entered into other companies as a new graduate but did not succeed there. We are trying to offer them opportunities at our company.
The retirement age at our company is 65 but we are looking at extending this for those who are willing to continue to work. The passing down of the accumulated knowledge and experience of these workers is very important. Currently, we are passing this knowledge down to the next generation through writing.
It is the DNA of Oriental Engineering to become number one by ourselves. However, with the rapidly changing economy and Japan's demographic situation, hiring new people has become a big issue. Another approach that we have been taking to address this is creating a comfortable working environment. We are a mid-sized company, so the salary itself may not be that high. However, this year we have 116 days off, and next year we will have 122 days off, like many of the major companies. We are trying to create an attractive environment for our workers.
In addition to these approaches to hiring, we are trying not to depend fully on human labor. We are introducing productivity improvement activities which include the implementation of DX, AI, IoT and machine vision. This will allow us to reduce the number of workers and increase the efficiency of our operations.
At the same time, we currently only hire people who have been educated in Japan. This includes Chinese people who can speak Japanese and have received their education and training in this country. Hiring people who have not been educated in Japan could be a new option for us to secure human resources in the future.
We saw in our research that the company was founded in 1952 by Mr. Yasaka Otomo. At the beginning, it was established under the name Toyo Kinzoku Kagaku Co., Ltd. Could you quickly run us through the history of Oriental Engineering and some of the key technological milestones and improvements in the history of the company?
I joined the company in 1983 as a facility designer. I believe that the main milestones actually occurred before that. In the beginning, the company started by doing heat treatment processes using machinery from overseas. At a certain point, the engineers were determined to develop our own machinery and devices. With that we became a facility manufacturer. The second major milestone was that we provide atmospheric furnaces. American manufacturers use RX gas, while we use a methanol filling method. It was existent in Europe. However, we were the first company in Japan to commercialize this methanol filling method in atmospheric furnaces.
Recently you were one of the first in the world to mass produce coating systems using plasma CVD. This technology allowed you to offer various coating processes that can be for example, titanium related as well as diamond-like carbon coatings. In 2008, the Japan Die Casting Association gave you the Technology Award for this. First, what allowed you to be the first in the world to provide that technology? Secondly, what are some of the advantages or gaps in the market that this technology has allowed you to fill?
I come from a facility background, so I am not very much familiar with the coating division. However, as far as I am aware, there was an engineer at the university whose background was in coating technology. He had this ideal coating facility and machinery in mind, so he collaborated with our facility and machinery department. They worked together to produce our one-of-a-kind coating device. Currently, we have manufactured six units of this coting device . At that time, the PVD and CVD were the machinery for coating. However, the engineer knew that by combining the physical and chemical aspect to make the PCVD, would overcome all the demerits that each of the units had. Using plasma also allows you to deposit the coating at a low temperature. Our company collaborated with this engineer and made continuous efforts to attaint this idealistic coating machinery. That is the brief history of how we developed our unique coating machine. Of course, there were many challenges and hardships, but Japanese people never give up. With this spirit, we as a company are able to achieve our goals.
---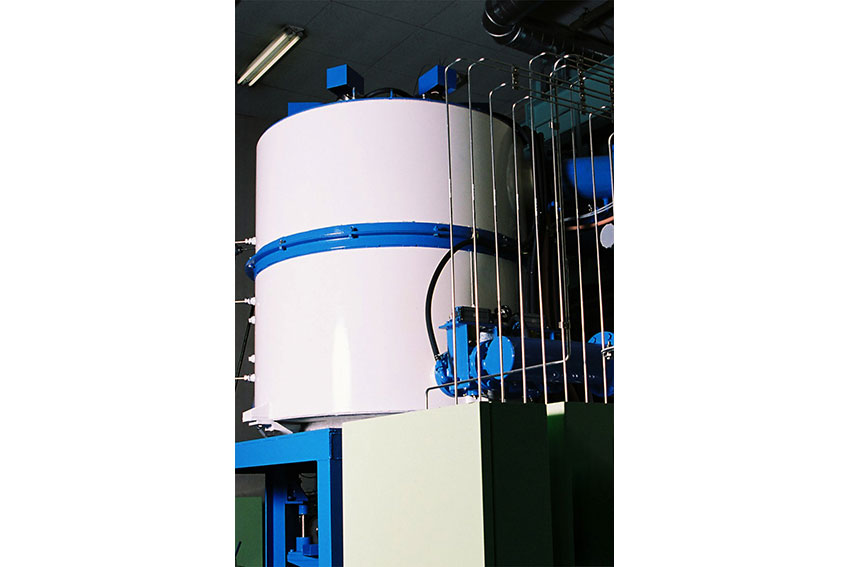 ---
In 2002, you released NEOVIA which is a batch-type vacuum carbonizing furnace. One of the specificities of this product was that you were able to include within the machinery an atmospheric control system that allowed for greater ease of use. Could you tell us about this particular product and how it has evolved through time from 2002 to today? What are some of the new features that you have added?
I am actually the first designer of NEOVIA. The uniqueness of NEOVIA is that it is considered as a second-generation heat treatment furnace. The first-generation was invented around 40 years ago by another Japanese company. At that time, the machine was still primitive that it was difficult to operate, and therefore, did not penetrate the market very well. The gases that were used were propane and butane, which have a high carbon content. The second-generation of this heat treatment furnace used made by another Japanese company acetylene gas which is C2H2. Likewise, within this second generation, I myself was the first designer of the NEOVIA type. What is special about NEOVIA is that it has an atmospheric control in the vacuum state. We can create this vacuum state and control the atmosphere at the same time. This is a very unique feature for the furnace. We were able to register the patent. However, it has now been 20 years, so the patent has expired.
We became well-known for the control technology that we had, using the sensor that monitors the level of hydrogen inside the furnace. Controlling the vacuum and the atmosphere at that time was a more pattern type of technology in which a certain type of gas was emitted for a certain period to see the vacuum status. We introduced a feature to control the vacuum and the atmosphere as well, which was very unique. At first, we also used propane and butane gas, However, we then started using acetylene as well. With our unique features, we have been able to evolve our machinery and provide high quality products to the market.
---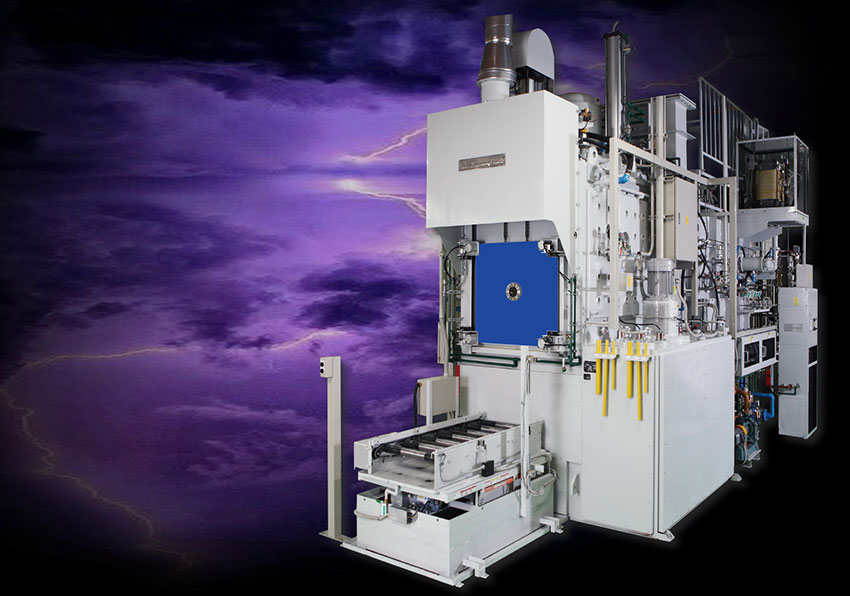 ---
Even within the vacuum state, there is a certain amount of atmosphere, so we use a sensor to monitor and control it. Conventional machinery uses pattern type technology where the gas state is inserted from different orientations in order to simply switch the atmosphere inside of a furnace from the vacuum state to the gas state one after another. We developed the sensor in-house and with our unique technology, we became able to monitor and control the atmosphere.
You have two joint-venture companies in China, as well as one that was created more recently in Malaysia. Looking at the future, could you tell us about the importance of the international market for your company?
There were some disruptions to our Chinese operations due to Covid-19. All of our Japanese staff that were working there have since returned to Japan. Internally we are struggling to secure human resources. Our elder generation are retiring, and some engineers have left the company as well. Therefore, we first need to look inwards and secure our footing in order for us to go back to the overseas market. Currently, we are not sending any of our Japanese personnel abroad. Rather, we are asking the Chinese company to operate by themselves. Once we have secured our stability in Japan, we hope to return to there.
The area that I am most interested in is creating an overseas maintenance service. Like many SMEs, we have our facilities installed in overseas factories. When maintenance is required, we send out the parts and ask the engineers of our customers to replace the parts that have broken down. However, if we could have even a single person to take care of this overseas maintenance service, we could elevate our service level significantly. That is what I would like to do going forward.
We know that your overseas bases are in the form of joint-ventures, and that there is a HR struggle here in Japan. Looking at the future, are you interested in potential partnerships either in the form of co-creation or co-development such as sharing human resources with another company for example, or are you interested in M&A type alliances?
Our company philosophy is to realize a sanpoyoshi environment, which means creating three-way satisfaction for our company, the customers, and the society. In order to achieve this, it is important to collaborate together with other companies in the form of partnerships, M&As or joint ventures. Recently in Japan, there have been SMEs that have been going out of business due to the pandemic. They possess the technology, but lack human resources or funding. Therefore, conducting M&As with those companies is a potential option for us, as it would allow us to grow together as a company.
There has also been a big change in society recently with the move towards EVs in the automotive field. Toyota is still contemplating what direction to take regarding the hydrogen fueled internal combustion engine and the fuel cell, EVs or a hybrid of both. One thing that is for certain is that conventional internal combustion engine cars are going to diminish. With that, the number of components required for these new types of vehicles will be half of the current amount. That means we will lose half of our market share in terms of the heat treatment of automotive parts.
What we need to do is open up and challenge ourselves in new industries, other than heat treatment. We need to utilize our strengths in PCVD coating. That may be in the aircraft field, the medical field or the construction machinery field, for example. As an SME, our resources have been limited. However, by collaborating with partners in these new fields or carrying out M&As on smaller sized companies, there will be opportunities for us to grow. That is the way we need to proceed.
I do not know if I was able to meet your expectations, but I am giving a very frank opinion of the situation regarding Japanese SMEs. While they do possess the strength and will to push forward, the situation that many are currently facing is a struggle. We are a company of 160 employees and we cannot do everything by ourselves. However, we do pride ourselves on being independent and being able to develop our own unique technology and being able to sustain ourselves.
In the past, there were discussions regarding a technical alliance with an American company. I visited the company in the US together with our CEO at that time. The CEO declined the offer, saying that we could cover the level of the technical alliance by ourselves.
It was in a way thanks to this independent culture, that I was able to make so many detours in terms of engineering and development. While that could also be considered as inefficiency, I was able to improve my skills as well as the skills of our employees. However, I feel that being independent and solely relying on ourselves is no longer applicable, after these recent few years. Looking at Toyota, they have created so many partnerships and alliances with both domestic and overseas companies. We too need to open ourselves up and become dependent on collaborating with others, in order for us to continue to compete in the market. I became the president at a turning point in the history of Oriental Engineering. I am sure that things will change drastically within our company in regards to our relationships with other companies. This is necessary to ensure that we continue to have a sustainable business operation.
Imagine that we interview you again on the very last day of your presidency when you are about to pass the company to the next generation. What dreams and goals would you like to have achieved for the company by then that you would like to tell us about in that new interview?
My mission as the president is to pass down the baton smoothly to the next generation. In order to do so, there are several things that I need to fulfill. Looking back on our history and how I became the president, it was not that I was an especially talented engineer. Rather it was more to do with the timing and the situation that the company was in. It was inevitable for me to take up the role. I entered the company as a designer for facilities, and I actually thought that I would finish my career as a designer. However, I was given the job of factory manager. At that time, there was no other suitable candidate for the role. I had a long affiliation with the company, and wanted to pay them back by taking the job. That eventually led to my appointment as president. I was given a great opportunity to contribute to the company.
I am keeping it in my mind to always try to be thoughtful to people around me and not to become an egoist. I consider that it is very important that the president not only thinks about his or the company's situation, but also considers the employees and the customers as well. A president needs to have a holistic approach to society. For example, there may be multiple vendors who bid in with lesser prices for the product. However, if you only focus on this price competition, you are adding to the burden of the vendors, which is not sustainable in the long run. You need to co-exist and prosper together with the vendors, customers, employees and the society as a whole. It is important for me to have this holistic vision, and at the same time, improve and increase our strengths within the company. I want to improve our company policies and spirit and raise the new generation's president. This will make the company sustainable and create a win-win environment for all. That is my dream for the future.