We would like to use your company as an example to challenge the misperception that Japanese firms have lost their innovative or quality edge in the eyes of the international audience. With that in mind, can you please share with us what is your company's take on monozukuri? What sets you apart from your regional manufacturing competitors?
I would like to start by describing the differences between Japanese and overseas firms. I will speak from experience since we have an office and plant in Vietnam Typical overseas companies always think about business at the forefront. Since they are manufacturing goods, they focus primarily on the manufacturing of the goods that their customers require and their profitability. That is the way that they operate their business.
However, Japanese companies look beyond the delivery of the goods and focus on the satisfaction of the customers. After the products are delivered to the customers, Japanese companies always care whether the customers are satisfied or not. When customers are unsatisfied, Japanese companies do not mind retrieving those goods and making improvements, so that their customers are fully satisfied. I think that this is a unique aspect of Japanese companies.
During the period when Japanese manufacturing experienced rapid growth, Japanese SMEs used to supply components and goods to the large corporations. That business practice is still deeply rooted in the Japanese industry today. Rather than looking at other opportunities or potential customers, we try to dedicate ourselves to our current clients. That is a fundamental business mindset for Japanese SMEs. The selling of their products is not the end of the process, we try to ensure that all of the customers' needs are satisfied until the end. That is central to our business mindset, and one of our main strengths, alongside our quality and technology.
You talk about the finishing line not just being the delivery but going beyond that to the after-sales which comes from the business and manufacturing culture of Japan. How do you manage to preserve this culture and bring it overseas to Vietnam?
Firstly, I would like to talk about the reasons why we established our subsidiary in Vietnam. It was driven by a Vietnamese employee who was working in Japan for us and wanted to establish a company in their home country. At this moment, we do not have any Japanese employees at our Vietnamese subsidiary. About 1/4 of Vietnamese employees there including the management members used to work with us in Japan. These employees learned the principles of management and the manufacturing process here in Japan and brought these principles of monozukuri back to their home country to educate the local staff .
The other aspect that I would like to highlight is that we have an accumulated technology here in Japan. This is also supported by our Vietnamese employees working in Japan. For example, if we receive a relatively difficult order from a customer, and would like to produce it at our Vietnamese plant, our Vietnamese employees here in Japan transfer the necessary information, technology and skills to our local staff at our plant in Vietnam.
There is a very strong tie between our Vietnamese employees working in Japan those in Vietnam. If our Vietnamese plant is not able to achieve the level of accuracy or precision that is required by the customers, then their staff will contact those in Japan. We have a very good flow when it comes to the transfer of technology and knowledge. Our Vietnamese local staff also have the same philosophy of monozukuri as we do in Japan.
You mentioned technology challenges and that sometimes clients' requests require you to network either internally between your staff here in Japan and in Vietnam, or with other companies here in the Higashiosaka area. Can you give us an example of those challenges and the type of client that you are able to cater for?
When we receive a request from a customer for this hand chuck part, it requires surface treatment as well. If the customer places an order with us for the processing, but also needs to place another for the surface treatment with a different company, then they need to place two separate orders, which is not very efficient.
What the customer really wants is the delivery of a semi-finished product including the alumite coating. For this kind of customer, we play the role of a hub; we take care of the metal processing in-house, and we then place an order for the surface treatment through our network. This means that the customer only has to place one order through us. They then receive the semi-finished product. We really care about the quality of the products that we deliver.
---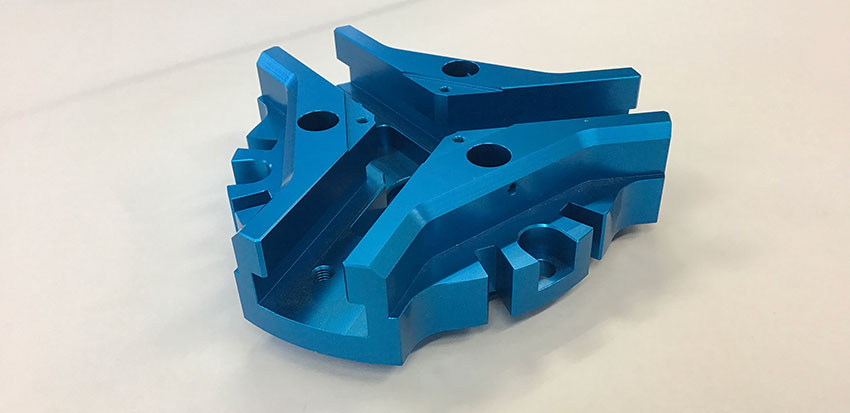 Hand Chuck with Alumite Treatment
---
These kinds of products have additional thickness after surface treatment. The customer wants it to be delivered with the accuracy that includes that additional thickness. It is not convenient if they need to calculate it. In order to make it more efficient, we also take care of the calculations for that additional thickness and we do the designing based on the accuracy that the customer requires. Therefore, we can take care of the ordering process while securing the quality that the customer wants. This is an example of how we use our network.
The Higashiosaka area is well known as the industrial center for monozukuri. There are a lot of different companies with different technologies from metal processing to surface and heat treatment, among others. We benefit from this unique location, and that is one of our strengths.
We know that you have been producing the Senjo Komachi for the last few years, which is a specialized washer and drier for components. Can you tell us more about what motivated you to develop a washing machine and give us an overview of this product and how it differs from conventional component washing machines?
---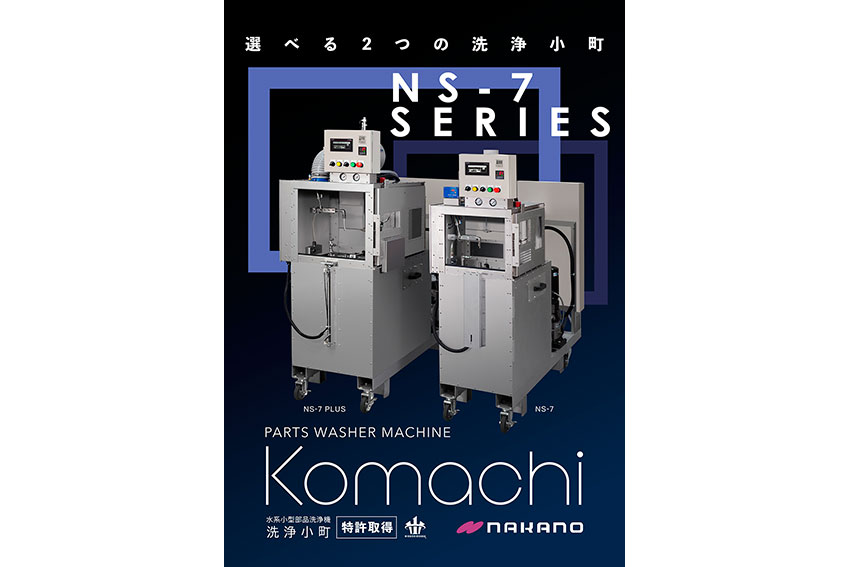 Senjo Komachi NS-7 Series
---
As you know, we do metal parts processing and today, our production process is high-mix low-volume. In the past, we used to mass produce automotive parts, however, over time the production bases were transferred to other countries, which meant that we received less and less orders. When we mass produced automotive parts, we used to have a large washing machine, which was separate from our processing machines. The decrease in orders meant that we did not have to use the large-scale washing machine anymore. We decided to add that washing machine functionality into our processing machines which allowed us to save the space and use the human resources in other parts of our business. That was how we came to develop our compact washing machines, which can be put into the processing line. It was born from the kaizen process of our company.
Originally, it was not a product to be sold to customers. However, one day a customer came to our plant and when he saw that the washing machine was part of our processing machine, he told us that he liked it and placed an order for it. We then realized that it could be a product to sell to other customers and that was how our washing machine business started.
Is this product something you intend to supply to your customers operating overseas as well, or is it something you are only selling here in Japan?
Yes, we do intend to supply it to our overseas customers as well. However, right now we are not prepared in terms of marketing staff or sales resources. We are working on finding these resources which will allow us to sell this product overseas in the future.
In recent years, with many parts and final commodity producers shifting their production to overseas. As a result, SMEs either have to follow them and do local production in that new locality, or in other cases, the final maker finds an overseas company to work with instead, leaving behind their old Japanese suppliers. Many SMEs have adopted a strategy of adapting to that complication, whether that means moving overseas themselves or finding new overseas clients to help compensate for their lack of work. Are you looking to find new clients from the overseas market?
As you mentioned, in the past, a lot of Japanese suppliers followed the large corporations which tried to establish plants overseas. However, recently I have not seen that kind of movement anymore. Even though we may follow someone who is opening a plant in the overseas market, we do not have the guarantee that we will continue receiving orders from that company. Of course, that company will choose better products at cheaper costs. That is why we have never followed a company to the overseas market.
Our plant in Vietnam gives us some advantages when it comes to monozukuri there. Looking at the manufacturing process in Vietnam, I would say that it has still not matured yet, it is in a process of development right now. Many large manufacturers are trying to open factories there, however, they are not bases for monozukuri, rather they are assembly plants. Their business model is to procure the components from other countries such as China, South Korea and Taiwan, then bring those components to Vietnam for assembly and distribute those products in the local market.
When speaking about metal processing skills for example, the level is not very high in Vietnam, I think we have superiority in that market. When they cannot manufacture certain goods in Vietnam, they try to purchase them from other countries such as from Europe or Japan. Therefore, if we are able to produce high quality products in Vietnam, we can reduce the costs for transportation. I believe that we will have a lot of business opportunities there.
How do you envision your further international development? Will it be through consolidating your presence in Vietnam, or do you see any other countries perhaps in Southeast Asia or elsewhere where you can create a similar niche for yourselves?
Recently we have been seeing a weak Japanese Yen trend. As a result, I am expecting that we will receive some requests from other countries for the production of components. However, Japan is an island nation, and I believe that Galapagos syndrome is still prevalent here. It is very difficult for foreign manufacturers to enter the Japanese market. At this moment, we have no orders from foreign makers.
In Vietnam, if you want to do business, you can only do so within certain industrial parks or communities. However, within these communities, you can find companies from various places such as the United States, Europe, Japan and Taiwan. The owners of these companies are from different countries. On the other hand, the people working there are all Vietnamese. This makes it very easy for communication between different companies. If you want to expand to overseas markets from Japan, the hurdle is very high, but if you use the community of companies in Vietnam, you will have opportunities to expand globally due to the active communication between the different international companies there.
Imagine that we come back to interview you on your last day as president of this company. Is there a certain goal or personal ambition that you would like to achieve by then, which you would like to share with us in that interview?
When I manage a company, I always want my employees to enjoy their work. The growth of the company requires the growth of its people. This is a belief of mine that will not change; I want our employees to grow.
Whenever we do something new, such as our entry into Vietnam or our development of Senjo Komachi for example, the growth of our employees is the most important.
We introduced a new method called the OKR method two and a half years ago. The aim of this is to encourage our employees to come up with new ideas. One of the ideas that they came up with is related to Senjo Komachi. We provided the contents of this to a youtuber to further promote the product, and we came up with our own commercial YouTube video for this as well. We have also developed a catalogue for our subsidiary in Vietnam. These were the ideas of our employees. Going forward I want our employees to continue to challenge themselves. That is my goal for the future.
---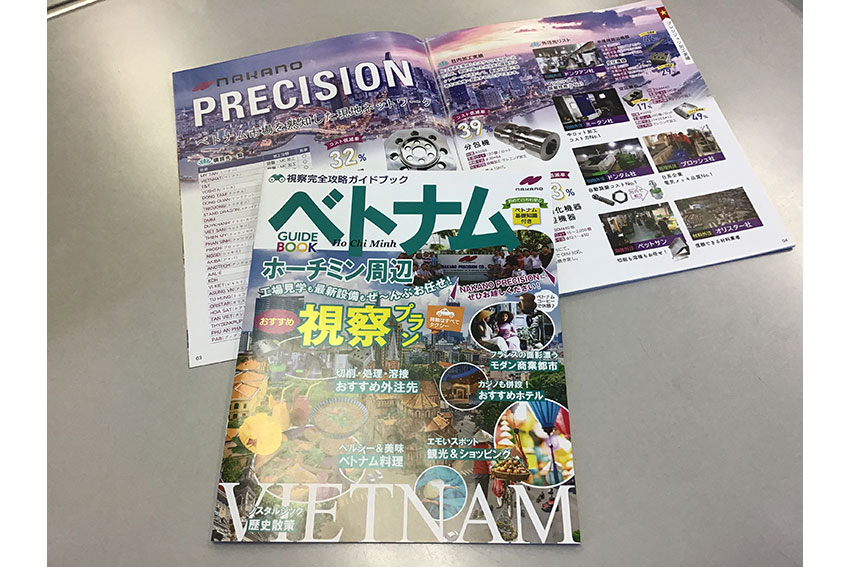 Visitor's Guide (Nakano Precision Co., Ltd, the Subsidiary in Vietnam,)
---