What is your take on monozukuri, and more generally, what are the strengths of Kokusai Electric company that have allowed it to excel in the international market?
There was a time in the past when manufacturers could sell as long as they created quality products.
However, times have gradually changed and right now we are extremely careful and concerned about to keep on communicating with clients and the partners that supply us with material or components.
We always value "Tai-wa™" as our company philosophy. Tai-wa is a Japanese word meaning of dialogue, conversation between people face-to-face. We use Tai-wa, as securely hearing the voices of the clients and partner companies, and really understanding their needs is foundational to our business. We think that this is critical; not only understand their needs, but communicating how we can best meet those needs.
The next important point for us is "Technology." Technology is obviously necessary in order to realize the needs of customers at a high level. In conventional fields there are regional competitors and companies coming up, which inevitably intensifies competition.
We are not a company that wants to compete in that red ocean. Our strategy is to compete in a field where we can leverage our unique technological capabilities. We cater to an incredibly cutting-edge, and high end market. In order to do that, of course, we always pursue advancing technology and innovate by fusing our technologies, refined across multiple fields.
The third important thing is precise manufacturing capability. If you ever have a chance to go to our factory or plant, I think you'll be able to understand this. In the automotive sector for example, they are able to conduct production using robots, but with our equipment that's not possible because we have so many components in a very narrow space. It is important to have technicians with the right expertise who are mature enough to be actually using their hands for the assembly, the monozukuri. It's extremely important.
Also, in this field we use dangerous gases, for example, and we cannot have a situation where gas is leaking or electricity is leaking, so again, it's important to have precise manufacturing done by mature and experienced operators. This precise assembly, precise monozukuri is vital for our company.
Last but not least, what we place importance on after-service, and we have integrity towards our customers to care for and maximize the life-cycle of our products.
Our equipment is actually used for a very long time by customers. 20-30 years is the average lifespan, and some customers even use our products for 50 years.
Of course, when the equipment breaks down, we need to repair it quickly. However, we go beyond simple repair, we also make proposals to upgrade the equipment so that there will be a further cost merit on the customer side. I think it's important to keep on enhancing the functionality of the equipment that they use.
Based on these four important points, we do our monozukuri. Our company slogan is "Technology and Tai-wa for Tomorrow". We consistently lay the foundation for tomorrow by responding to diverse needs with "Technology" and "Tai-wa ™".
There needs to be mutual understanding for new technological developments. This Tai-wa is therefore the communication that is able to reach a mutual understanding by all parties involved. We have placed importance on this company slogan in the past, but and continue to respect in all of our activities.
You talked about the importance of communication and of understanding the needs of your clients as being key to your identity, to your DNA as a company. I'd like to follow up on this point in two respects. The first is in terms of sustainability. You already mentioned the toxic chemicals, and the high volumes of electricity and purified water used in semiconductor device manufacturing. Can you tell us a little more about what technologies you're either implementing or developing to help lessen the environmental burden of your machinery?
One of our core products is the batch deposition equipment that we have. By using batch deposition equipment, we're able to have consolidated numbers of wafers being processed at once, and this is more eco-friendly than each and every wafer being processed separately, one at a time.
We are helping the process of manufacturing semiconductors, and on the semiconductor manufacturers' side, they are going ahead with their activities to lessen the amount of power consumed by the semiconductor itself.
If the resistance is high, that means the generated heat is going to be higher as well, so what we do is we make sure that, there's lower resistance to lessen the amount of heat generated.
Also, if the film becomes too thick or thin, or is uneven, it means that again, there's going to be higher heat generation. Actually, one of the key strengths of our machines is that in this complicated structure, we're able to ensure that there is a consistent unified thickness in the film. We are very strong in this area.
In the device field, we are contributing to lower resistance and lower power consumption of the device itself. As for our equipment, it does, consume a lot of electricity and water, so we have been conducting various activities to tackle and mitigate this point.
One thing in terms of power consumption is that of course we use heaters, so we are going ahead with developing heaters that don't consume as much power. That's one strong initiative we're developing. Also, we're experimenting with using plasma as a catalyst instead of just using heat to create a reaction.
These are some of the other processes that we're considering in order to lessen the environmental burden from our equipment. We are contributing to this sector in terms of both devices and equipment. I think that we need to keep on thinking about new ideas on how to lessen the burden on the environment and how to improve our technology so that we can achieve that.
---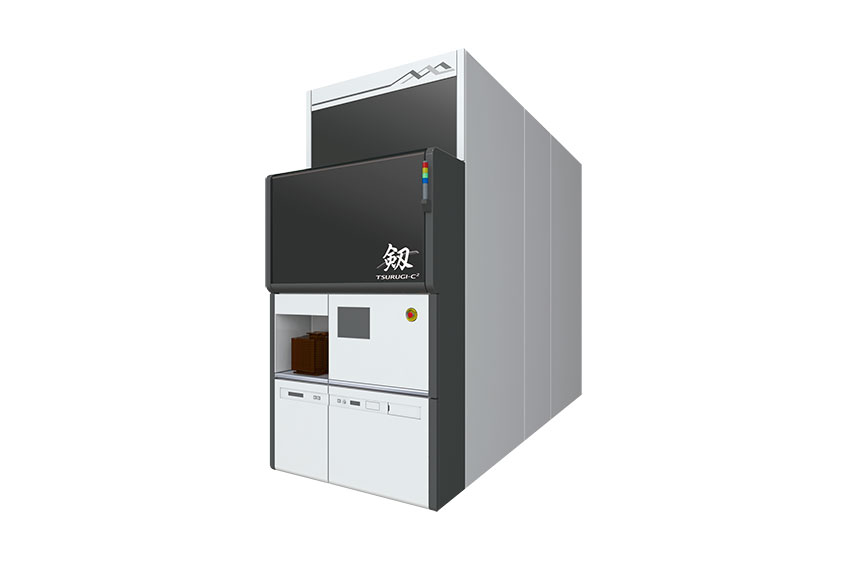 ---
In light of the groundbreaking of TSMC's new fab in Kumamoto, what do you think makes Japan an interesting option for opening fabs?
I hear this especially from overseas people, they keep on saying that people from different countries are interested in Japanese material technology and equipment technology. Also, they're interested in the SMEs' technological capability in components.
When companies are thinking about expanding and coming to Japan, one of their key words in terms of interest will be "development" within the supply chain.
This mirrors the thoughts of the Japanese side because Japan would want to utilize the capability that we have right now and expand that to the high end. I think the goals of both sides made a good match, so that's probably why Japan was chosen.
In 2018 Kokusai Electric became independent of Hitachi Kokusai Electric. Can you tell us a little more about that process, and the motivation behind the split.
We used to be a part of the Hitachi group. Hitachi Kokusai Electric had two main divisions. The first one was what we're doing right now, focused on semiconductor manufacturing equipment, and the other division was video and communication.
Our business requires a vast amount of R&D investment, and speedy execution is extremely important. Also, in terms of monozukuri, our field requires extremely advanced procurement of materials. We need to have the material in our hands to go ahead with production.
We thought that if we were able to have a company that's able to make its own individual management decisions then we'd be able to grow further in the semiconductor industry. Hitachi wanted to split off the semiconductor business and on the other hand, on our division's side, we wanted to become independent as a specialty manufacture of semiconductor manufacturing equipment. I think this suited both sides, and that's why we left Hitachi group.
What is the current focus of your R&D strategy?
First of all, do you know the term N plus one, N plus two, N plus three? N plus one is the next generation, and the following generation is N plus two. The conventional way that we did development was to work with our clients to develop something for N plus one or N plus two, but right now the development of the semiconductor devices is advancing exponentially.
Therefore, clients are developing N plus one and N plus two in parallel with development for N plus three and N plus four as well. That's their requirement. We are aligning with that approach, so we actually need to develop our equipment and processes not only for the N plus one generation, but also up to the N plus four generation right now. That's why a vast amount of R&D investment is required.
Until recently, basic R&D would take place in Japan. Customers would bring their wafers to Japan and then we'd do a demonstration here involving a trial film deposition using our equipment, and then they would take that back and do their evaluation in their own countries.
That was the conventional way, but one of our clients felt the distance was a burden. So we decided that what's best is to have our equipment actually at the local site, and established a 'demonstration room' very close to their sites. A demonstration room is basically a clean room containing our equipment where we and our clients can conduct R&D activities.
Then they will do their evaluation at their end and make suggestions if required, such as changing the material of a part. That's a strong point of our process. In order to have this demonstration room, we need specialized equipment, so again, this requires a lot of R&D investment.
---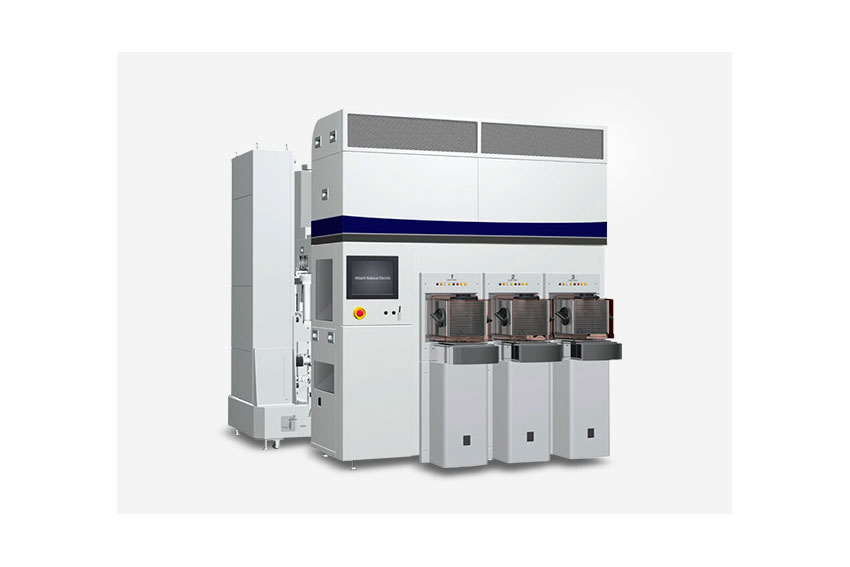 ---
We saw in a recent press release plans to build a new factory in Toyama with the reported aim to double your production volume. Could you tell us a little more about the motivation to develop the Toyama campus, and what you will produce in the new factory?
We work with various investigative survey companies, who conduct surveys for market analysis. They produce reports of their findings about wafer fab equipment (WFE), detailing how much they think production volume is going to go up for semiconductors until 2030, and how much shipping volume there is going to be for the equipment, and so on.
Looking at that report, we are pretty sure that the semiconductor industry will keep on growing, and of course in this era of big data, we are confident that the numbers of semiconductors required is going to keep on increasing, and it's not only going to be for memory, but also for the logic. Not only for the high-end logic, but also the legacy logic.
We want to be aligned with that trend because if we don't have an increase of our production capacity, we won't be able to meet the needs of the clients anymore. That's why we decided to build a new factory and we are planning to finish this construction in 2024.
It's not that we see a need to double our production capacity by 2024, though. We think we'll need to have double our current capacity by 2030 but from 2025, we see that we're going to start having a shortage of production capacity so that's why we decided to finish it by 2024. That was the motivation behind our new construction.
What is your international development strategy?
First of all, when we have a strong position with clients, we want to keep that position. On the other hand, for clients with whom we're not so strong and with whom competitors of ours are stronger, we need to pave a new path.
In South Korea, we already have a demonstration room, and have strong production capability there. We have expanded our demonstration capability in accordance with the production capacity that we have in that country, and as such have a close relationship with our two main clients there. Also, a client's fab is about to be finished, so we will be implementing our equipment there and we want to keep on strengthening development in that country.
Where we want to further focus is in Europe and the US. Currently, there are concerns about the tightening of restrictions on exports to China by the US, and we would like to strengthen our activities in both Europe and the US. We still don't have detailed plans there for setting up a demonstration room yet, for example, but we think that we need to consider that as an option.
One more important point for us in our global strategy is to strengthen local companies, and this would include adding personnel to them. For seven or eight years now, we have been promoting this 'local strengthening' strategy, and we have been nurturing local engineers based on that strategy.
While we used to have Japanese presidents for our local sites in the US, Europe, China and Taiwan but starting this year we've hired local personnel to take over those leadership roles. We've already started to strengthen local companies' capabilities by doing this.
Furthermore, right now we are trying to reorganize our company structure and we're really keeping ESG (Environmental, Social and Governance) in mind. Strengthening governance is an important pillar for us. We're trying to strengthen our rules as a global group so we want each and every group company to go forward under a unified set of rules.
We reviewed every single global rule that was there and we're actually just about to finish this process so that as a group company we will be looking in the same direction and following exactly the same rules.
Let's say we come back to interview you again in two years' time for your company's 5th anniversary. What would you like to tell us about your goals and dreams for the company in that timeframe, and what would you like to have achieved by then?
The two main pillars of the business are the batch deposition technology using the ALD technology, and also the treatment technology using plasma. These are our main two technologies and pillars of our business. In the next few years I anticipate there's going to be a revolution on the client devices side as well, and we need to align our technology with that. How we are able to align and have an evolution together with them, would be something I'd want to talk to you about in our next interview.
Our technology is progressing each and every day, so I think that in two years our technology is going to be very different from what we have today. We want to both make our existing technology stronger, and create brand new technology.