Could you tell us more about the diversity of the sectors that you are supplying to and the types of machines that you are making?
From our founding in 1950 through 1980, our core business was the manufacture of textile machinery, and we continued to dominate the market by supplying pantyhose toe and crotch sewing equipment to 64 countries around the world. Later, in 1980, we predicted that demand for pantyhose would decrease significantly along with the change in materials, and began to search for new business pillars. Since there were a number of Sharp's factories in our vicinity and the Sharp's top executive at the time and our company's executive director were classmates of the Naval Academy, we received guidance from him and entered the semiconductor equipment field utilizing the handling technology we had accumulated in the textile industry. Nine years later, in 1989, Sharp made a major move into the LCD business, and we also participated in the LCD business.
In the semiconductor field, 6-inch diameter wafers were the mainstream at that time, but we took in the forecast of shifting to the larger diameter 8-inch wafer. Anticipating it would be difficult to maintain accuracy in slicing 8-inch ingots with the conventional inner blades, we began development of slicing equipment using our multi-wire method and completed a prototype.
However, just as the project was about to hit a deadlock due to a significant delay in the supply of 8-inch ingots, we received information that demand for TCXOs (temperature-compensated crystal oscillators), which utilize the characteristics of quartz, would increase. Conventional band saws cannot achieve the accuracy and productivity required for TCXO, and we proposed a solution to this problem by using a multi-wire cutting method. This is how our Multi Wire Saws have gained a large market share not only in Japan but overseas.
Subsequently, we developed a fixed diamond wire cutting method in addition to the slurry cutting method using multi wires, and in 2012, we received a special award at the Monozukuri Nippon Grand Award. This technology enabled us to enter the field of sapphire materials for LEDs and achieve a dominate global market share.

At that time, the founder also directed me to take advantage of LED wavelengths to add value to the company's products. Since Tokushima Prefecture is the mecca for the LED industry in Japan, we were introduced to the University of Tokushima's Faculty of Engineering through Tokushima Prefecture's Commerce, Industry, and Labor Department and asked for advice on a value-added enhancement plan for our products that utilizes LED wavelengths, but we were unable to obtain results that met the direction given by the founder.
However, thanks to the arrangement of the University of Tokushima, this story was brought to the Industry-Academia Collaboration Department within the university, and we reached the theme of developing a device for sterilization and disinfection of blood using LED wavelengths in accordance with the requirements of the Faculty of Medicine.
At that time, the doctors of the university were longing for an ascites fluid concentration and separation system that could prevent secondary diseases caused by ascites fluid in terminal cancer patients. The system could extract ascites fluid and separate the cancer cells and blood contained in it thereby enabling palliative care and reducing medical costs for cancer patients. We took this opportunity to enter the medical equipment field.
As you may have noticed, we could not realize what the founder had directed us to do. I brought this theme back to the company, anxious that our founder would reproach me, since the development of medical devices would involve enormous development costs.
However, when I reported to our founder, he agreed, seeing it as a great opportunity to enter the medical field.
Our founder thought that ageing population was increasing in Japan, so if it was to help cancer patients, it should be done proactively, anticipating a demand for medical equipment will increase more and more in the future.
Our medical equipment was born from our original ideas. On the other hand, we only had experience in selling semiconductor related equipment such as Multi Wire Saws. However, the medical equipment industry has a unique sales channel and it was not as simple as our previous sales approach.
Sales of the devices are influenced by the disclosure of clinical trial data and effectiveness at academic conferences and in papers by prominent doctors in the field. By collaborating with doctors in Tokushima University, we succeeded in making Takatori's presence in the medical business world.
The development of medical equipment is time intensive as you have to accumulate clinical trial data, file an application for the Ministry of Health, Labor and Welfare, and then receive a license. As a prerequisite, we need physicians who share the same aspirations and who want to provide the product to suffering patients, and at the same time, we need to verify this need with our technology to see if we can really meet their needs. Thus, it typically takes at least five to ten years to develop medical equipment.
In the medical field, we consider OEM/ODM business as an important area. Our main goal is to create our own unique medical equipment and we believe that by accumulating experience in OEM and ODM business, we can enhance the brand of Takatori among medical field and physicians, and find new development themes.
What will be the focus for your next original medical device?
Our next focus will be on the coating of catheters. A catheter is long and is inserted from the hip joint to reach the heart or other organs. However, blood vessels are not usually straight, so catheters need to be flexible and smooth and must be able to bend. In the case of young people, their blood vessels are elastic and strong and can withstand the pressure and resistance from catheters. However, older people's blood vessels are not flexible enough. Catheters should not damage blood vessels. What is needed is a smooth coating around the catheter. Currently, we hold the technology to coat and lubricate catheters in our OEM/ODM business. We would like to make original catheter coating products in the future. I believe our technology will save more and more patients in the future.
---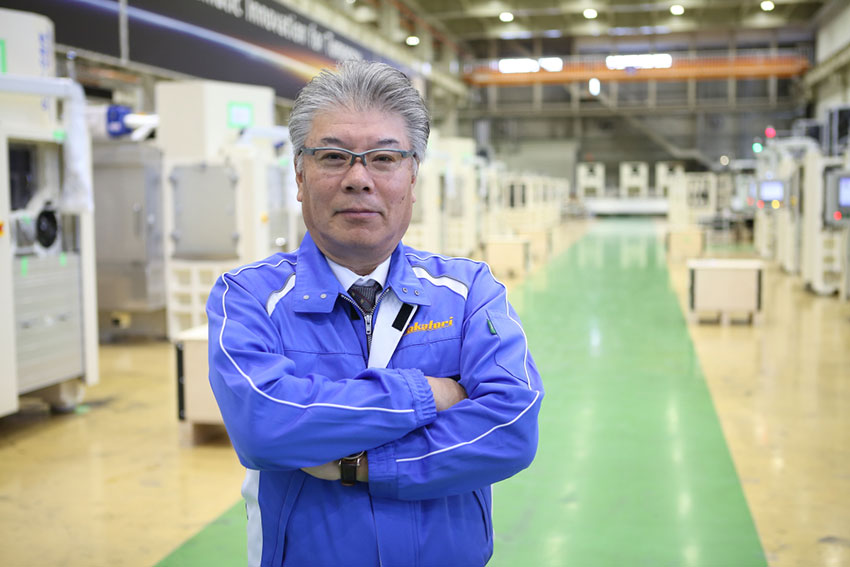 Makoto Masuda, President of Takatori Corporation
---
Are you looking to work with international companies to gain that kind of specialized expertise?
As you know, MEDICA Dusseldorf, the world's largest medical exhibition is held in Germany every year. Last year the exhibition was not held due to the pandemic. However, we have been attending this exhibition annually for the last five years. European medical device suppliers are targeting Asian customers, so the exhibition is a great opportunity for us. The European suppliers have been delivering their big CT scans and MRI machines to Asia by air. However, this is quite costly for them. Therefore, if we can propose OEM and ODM production in Japan, and then deliver their products to Taiwan, China, and other Asian countries, we do not need to waste shipping cost on each other. We attend these exhibitions in order to make these proposals and establish partnerships using our core technologies.
What would you say is your core competitive advantage as a company?
Under the motto of "Creation and Innovation" advocated by our founder, we create unique technologies that we can be proud of and provide the best products and services to enrich people's lives. That is the philosophy of our company. We want to create things that do not currently exist. This determination is Takatori's strength.
There is a statue of our founder in front of this building. It is a never-ending journey for us to create something that does not exist in this world. To realize this, we must push forward with aspirations and dreams. That is how we achieve "Creation and Innovation."
You earlier asked about the strength of our core technology. Examples of our core technologies include our Multi Wire Saws, or our tape lamination machines. They are niche technologies. We do not think about surpassing Toyota, for example. We operate in niche fields. However, within these niche fields, we are determined to obtain 100% of the market share. This philosophy is one of our major strengths.
We focus on creating high quality products using our technology and ideas. That is what we pursue every day. When it comes to our cutting technology, we have a slicing laboratory where we can develop our technology. It is said that new materials such as gallium oxide or gallium nitride will replace SiC in the future. We are the first to detect changes in materials, and through repeated trial testing, we develop machines that can respond to these changes. We are steps ahead in terms of research and development (R&D). In the sapphire field, we have 100% dominance. In processing SiC materials, we have almost 100% superior cutting with our Multi Wire Saw method.
We predict future needs and trends, and alongside these predictions, we conduct R&D. We produce and commercialize our machines so that all of our customers that use them are able to make a profit. For example, with regards to gallium nitride, we have accumulated processing know-how through a joint development project with Professor Nakamura of the University of California, a Nobel Prize winner in physics. We are currently working on a project related to gallium oxide. Our formula of anticipating future needs is also one of our strengths.
---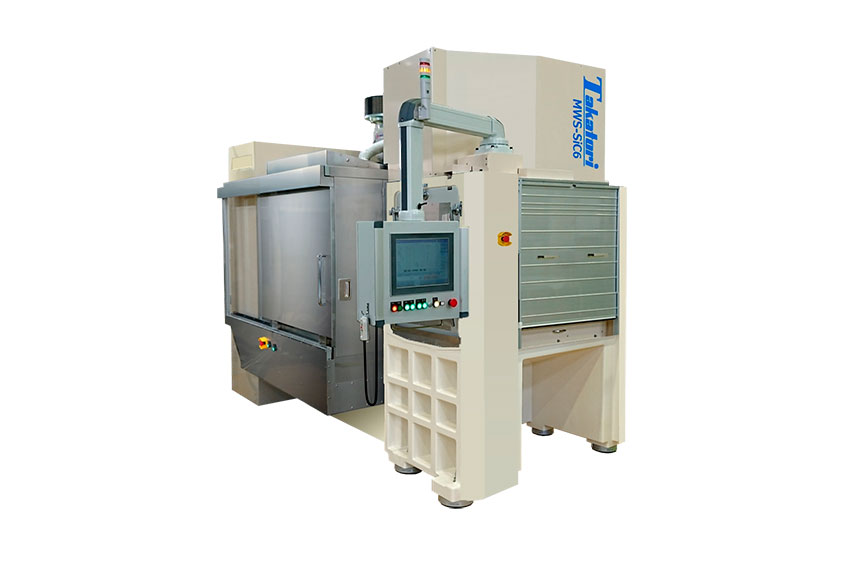 MWS-SiC6, Multi Wire Saw for SiC power semiconductor
---
In our interviews, we have heard the semiconductor sector being referred to as a concurrent or simultaneous development. You cannot just worry about the current generation. You need to be developing for the second and even the third or fourth generation all at the same time. What is your take on simultaneous development?
That is where our strength lies. The next evolution for our business is informational acquisition using DX. That not only applies to our company, but also to our distributors and representatives, as well as the universities and researchers that we work with. We want all these people to act on this, as a machine supplier, creator or innovator. We emphasize the point that we are doing this to increase the profit of our customers. We are creating a new business formation and aiming to be a manufacturing company with sustainability.
We gather the information and work together with our collaborators to achieve this. By analysing the information that we gather, we are able to incorporate something new into our final products. I believe that this is the only way for machine manufacturers to survive and evolve going forward.
This theme of collaboration is key. Aside from the exponential rate of development and advancement, another big change that we are seeing is the globalization of the semiconductor sector as well. You spoke about the importance of a more horizontal model of collaboration. What kind of partners are you looking for?
In the existing model, we are a machine manufacturer. The distributors are the ones who sell our products. That is the concept. Our main markets are Taiwan and China. However, our sales people could not visit Taiwan or China for the last two years due to Covid-19. Nevertheless, our sales are increasing and our financial performance has been very good, thanks to the SiC cutting machine as well as other competitive devices.
The reason that we are doing fine is that we came to know about the changes in processes, materials and devices before our competitors. By leveraging our technologies, we were able to create new technologies. When we think about gathering information, the more antennas or connections we have, the more information we can gather. Therefore, when it comes to partnerships, all of our stakeholders are partners. That includes academia and all the researchers that we collaborate with. We also have a good relationship with the leaders of the government administration. I want them to see things from a monozukuri perspective and share information with us. Acquiring information as quickly as possible is our strategy. Our policy is to work with people who share the same vision.
You mentioned China and Taiwan as being two huge markets within the sector. Are there any particular regions or localities that you are targeting as part of your international expansion?
China is the market that we are targeting. Having said that, there are ever increasing frictions between the United States and China. However, we knew about this, so we established a 100% subsidiary of Takatori in Changshu, China in 2017. At that time, Xi Jinping announced "China Manufacturing 2025". We felt that that China was aiming to isolate itself from the rest of the world so they could create their own devices and be self-sufficient. We thought of Takatori China to be able to provide devices to the local Chinese market and meet the domestic demand.
At that time, I discussed with the vice president and we agreed that this was a major turning point for the company. If we delivered something from Japan, they would have originally said that we were just a junior of the United States. Also, if we could not contribute to the Chinese economy, we would have been excluded from the production hub of the world, which is China. We did our research and established Takatori China. This way, even if we cannot bring anything from Japan, we can make products in China, using Chinese suppliers. This allows us to contribute to Chinese society.
Another benefit is that if we manufacture semi-finished products in China at low cost and bring them to Japan for final finishing, we can supply made-in-Japan products to overseas markets at low cost. Therefore, even if relations between China and the U.S. deteriorate further in the future, we already have this backup system in place.
If we were to come back on the last day of your presidency and interview you again, is there a certain personal goal or ambition that you would like to achieve with the business? What would like to share with us in that interview?
We have employees from different generations. Some joined our company in the 1990s. Others joined in the 2000s and 2010s. These different generations have different perspectives and ways of seeing things. The social structure is changing, and how employees are being protected is also changing. Even in these changing times, I want our employees to see the future, to stick to our company policy, "Creation and Innovation" and support our company as a permanent Monozukuri company. I want all our employees to say "Yes, we can see the future." I want them to keep our company policy in mind. That is my mission and my biggest desire for the future. We want to develop our employees to support our vision.
The reason why I say this is because our founding ideals have been passed down to our generation. Our current success is largely attributed to our strong corporate philosophy and policies. Unless our future generations feel the same way, we will never again be as successful as we are today. Therefore, I want to lay a solid foundation for the company's future success. We were able to enter different fields because we have been following founder's spirit of "Creation and Innovation.". Our company has very good DNA from the founder. I hope that by maintaining, expanding, and developing this solid foundation, we can continue to expand into new fields and be a perpetual company.